Mary Ann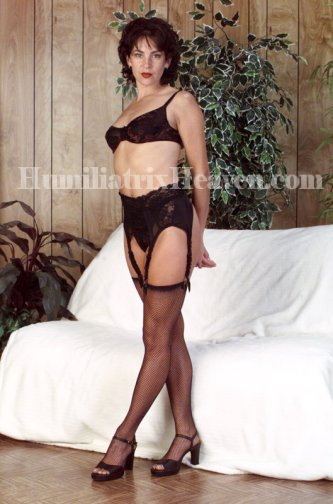 I knew I'd catch you playing in my panty drawer. I know you like to sneak my panties away, and sniff and wear them - the essence of my deliciously full bush engulfing your imagination. I know it's hard to resist - all those silky frilly panties and slips, they feel so good on your little wee wee. It's a good thing that I am here now, to take care of you in my very special way.

I only had boys, but I always wanted a pretty girl. But now I can have my wish. I am going to turn you into the perfect sissy slut! I will dress you up and turn you out. I will train you how to be the perfect girl slut. And, yes, that means not only crossdressing sessions, but slut training sessions too.

My slut girl is going to learn to be a proper cock sucker — we'll practice first on my strap on then on my boyfriend's cock. I am going to give you a girlie femme name. I am going to turn my sweet little boy into the perfect sissy slut girl.

This just isn't about crossdressing phone sex - or even forced bi phone sex — this is a way of life sissy dear, and I am mature and experienced enough to take you there. Transformation phone sex and forced feminization phone sex are my specialties.

Phone's ringing ... I hope it's you!
Call Now 1-877-712-3223
*Click Here for Mary Ann's image gallery*